Urban Natural Building Project in Portland "May 2002 found us in the middle of suburban Portland, Oregon, participating in a unique natural building event, The Natural Building Convergence. This project, coordinated by City Repair (more info at: http://www.cityrepair.org/nbc/index.html) involved 8 suburban, community designed cob building sites.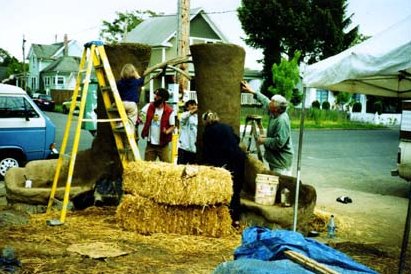 | | |
| --- | --- |
| FOUNDATION BUILDING | Becky facilitated the construction of a courtyard portal at a food cooperative. The nine day workshop was challenging and dynamic as people could walk in off the street and cob. The energy and enthusiasm was contagious and we did not lack for builders of all skills and experience. |
Building cob in a city was an inspiring and community building undertaking.
| | |
| --- | --- |
| Cob structures such as those built by Becky in a city contribute greatly to the reclaiming of a more friendly, community oriented city living. Becky is interested and keen to do more of this sort of building. If you are interested, please contact her to discuss the design and building of a reconnection to the earth and nature in your own backyard or community." | MOSAIC WALL (project coordinated by Rob Bolman) |
To see a wonderful video by Michael Blaha of the projects at the Portland 2002 Convergence, select "View QuickTime 68MB " at http://spirallic.net/blaha/video/nature.html
Home | Cob Building | Groundworks | Books for Sale | Workshops | Pictures | Links